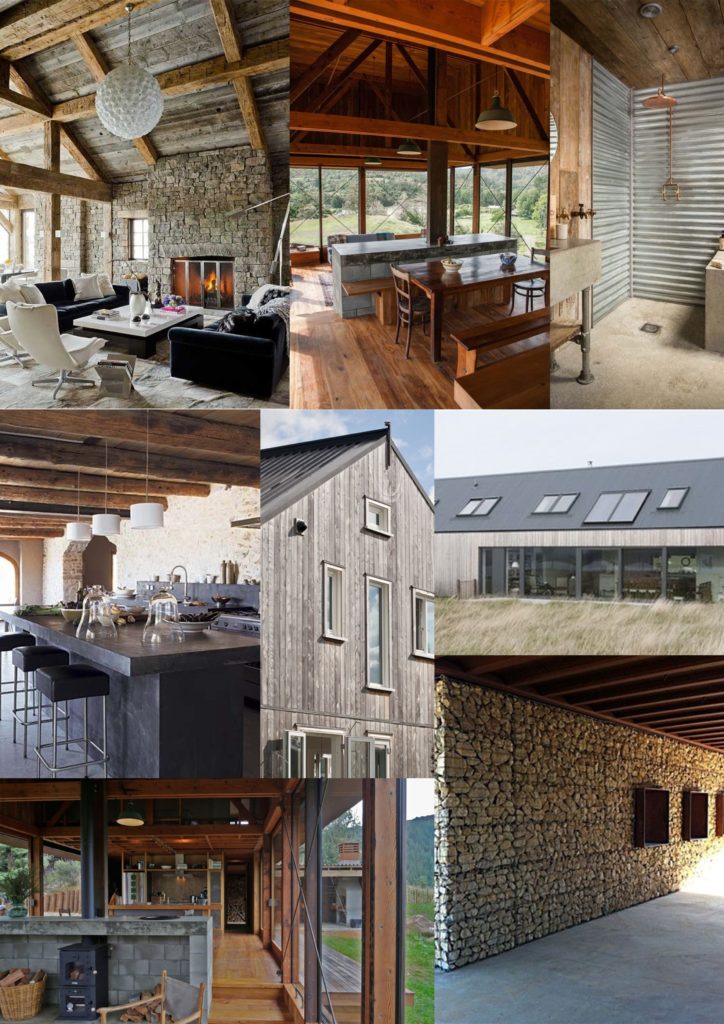 We have just finished the house design brief for our build and it's all ready to be taken to the Architect! This is such an exciting moment, it feels like we've made so much progress. We can pretty much walk through the entire house in our minds now!
This little montage best shows the style of house we are aiming for, lots of concrete, wood, stone and steel. One things for sure it's going to be sturdy! The process of narrowing down the ideas from the 100's or possibly 1000's of ideas we had was daunting and it took months of mulling it over in the back of our minds to come up with the final concept.
Our design parameters played a major role in dictating the materials we are going to use, which in turn has decided the style of the house we will build, making decisions a lot easier. The process sort of reminded me of secondhand shopping, where you have restrictions on what you can have and in turn these restrictions push you to be more creative and come up with exciting new ideas/styles/looks from what you can find to get the look you want. This is sort of how our house design has gone, a little outside the box!
Our main building parameters are:
Keep the costs low – the most important one! we want to keep our mortgage as low as possible
Use as much of our own timber as we can – we have a lot of mature pine trees on our property
Use locally sourced and secondhand where we can – hence the rustic, raw, slightly industrial aesthetic
We have also come up with the floor plan, this took a little more time to reveal itself but once it did we were 100 percent down with it. Again the build parameters came into play here, by making sure we (mainly me) kept the house on the smaller side and kept it simple, this way costs are kept down and it won't take forever to build!
So now that the house design brief is all printed and in its little folder next stop is the Architect!
If you want to catch up on previous posts on our build check out DIY HOUSE BUILD.
Feel free to leave me comment, I always love hearing from you. Especially if you have any advice!
Alana
xx