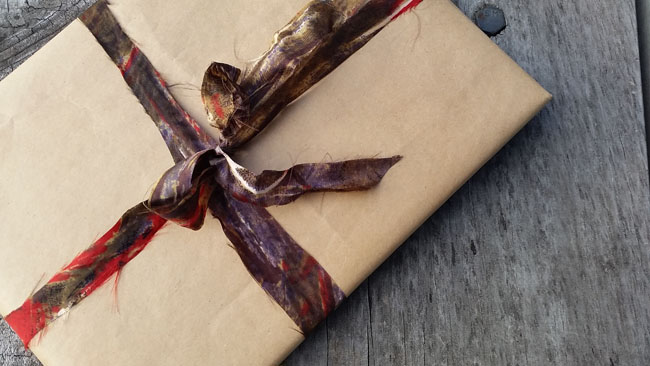 This gift wrapping hack is super easy. I came up with the idea of using an old scarf as ribbon for gift wrapping by accident when I ran out of ribbon recently and I ended up using an old silk scarf instead. Here's how I did it.
It was pretty simple really, all I needed was the wrapping paper, an old scarf with a cool pattern, tape and scissors.
The aim of the game is to get a nice long piece of "scarf ribbon". The best way to get the longest length I have found is to cut in a spiral, working from the outside towards the centre…..keep cutting until you have the length you want. Choose whatever width you like but make sure its not to thin as it may break when you get to the bow tying stage
I rounded the corners out so they would lie flat and not stick out.
Now the final stage is wrapping the presents.
Note: Depending on the scarf material you use there might be some fraying like mine. To be honest I quite like it…..I think it gives a bit more of a rustic feel, but if your not down with this look be sure to pick a scarf that is made from a fabric that won't fray.
So moral of the story………next time your out of ribbon head to the scarf cupboard for your back up supply.