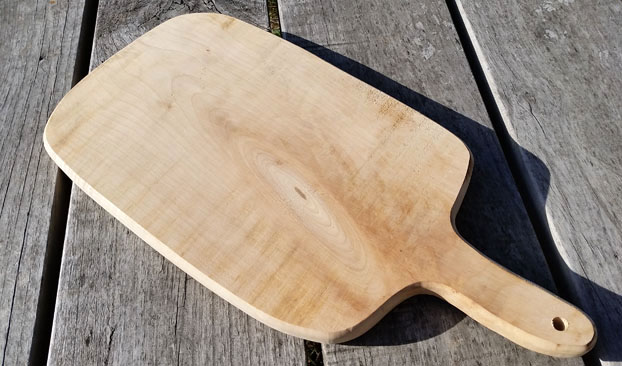 This week I had my first woodwork class. I know zero about woodwork but felt I needed to learn a thing or two before we build our house next year. As I'm envisaging myself being quite involved with the build, especially the interior fittings. At the moment I come up with lots of projects and then pester my other half to make them….so I'm looking forward to being able to "do it myself"
I decided my first project was going to be a simple chopping board. I had visions of one of those gorgeous antique french boards with a paddle handle and lots rustic charm.
To start I needed to find some wood…..luckily a kind friend gave me some pieces of beautiful sycamore.
Then it was off to class……..To be honest when I got to there I was suddenly super nervous…..the class was all male and everyone seemed to have big projects on the go and knew what they were doing vs me and my little piece of wood and no idea what I was doing. But once I pushed through the anxiety and got a chance to talk to the teacher I got onto the first stage……..drawing the pattern of my chopping board onto the wood. Because I wanted the rustic look I decided to do this free hand. From there it was onto cutting it out with my first machine…..the Band Saw, which is actually quite a scary machine….it has a huge blade and no safety guards or anything. My first instruction is to keep my hands far away from it……so no pic of this…was too busy trying not to cut my fingers off.
Once it was cut out it was time to make it look good. First port of call was the belt sander……….I gave it a good sand on both sides and on as much of the edges as I could get at. Then used a rasp and sand paper to get to the curves where the belt sander couldn't get. I took my time on this…I wanted it to be nice and smooth.
By this stage I was feeling quite excited….and couldn't stop grinning….my vision was starting to take shape!! But things were about to get a lot better…..the next stage was the Router. I used an edge forming bit, which I ran around the edges of the board on both sides. This machine with this particular bit works to smooth out the edges almost rounding them. It took the board from looking good to looking fantastic. By far my favorite tool so far.
The final stage was to sand any parts that still needed it and drill a hole in the handle. Then I was finished and I had new chopping board all in under 2 hours.